Is it really possible to make an income without putting up some money first?
Most of the ways to make money on the side like dividend stocks, businesses, and even ultra safe investments like bank CD's at the bank all require you to put up thousands of dollars first before anyone will pay you a return. But believe it or not there are a number of ways to earn money online without investment in the beginning.
The only thing it requires is simply your time, patience, and a little know-how of where to find these income generating opportunities.
9 Places to Earn Money Online Without Investment:
Although they may not make you a millionaire, here are nine different ideas for you to try to earn money online without investment or upfront capital to get things going. All of them can be done on the side while you keep your day job. They are also pretty easy to start and can simply be scaled upward as you get money you can invest or your reputation develops.
1. Start a Free Blog:
In order to start and make money from a blog, you don't necessarily have to pay for a hosting account, buy a theme, and pay writers and link builders to work for you. You can start one for free using WordPress.com or Blogger without any investment other than your personal time. Once you do, you can then sign up for a pay-per-click program (such as Google Adsense or Chikita) or promote affiliate products (using Amazon) to start earning money. If you start to see some income from your efforts, then you can consider making some investments to scale your business upward.
2. Perform Freelance Jobs:
People working online need help! They need people who can write articles, code, design, and do all kinds of other things that they either can't do or don't want to do. You could easily earn money online without investment of any kind by taking on several of these projects at a time. Start by creating profiles on eLance and oDesk. I outsource projects to contractors on these sites all the time.
3. Sell an eBook:
If you love to write and think you can provide a lot of value to someone else, then you could write and sell an eBook without investment of any kind. Think you need a publishing company or fancy software to produce one? I can't tell you how many eBooks I've found online that were created with only Microsoft Word or Google Docs. As long as you're willing to share some of the proceeds, you can sell it though Amazon.com or use an affiliate program to promote it on other websites.
4. License Stock Photos and Stock Music:
If you like to take photos with your camera or record music you make regularly, then there may be a money making opportunity with photography awaiting you that you're not even aware of. Marketers everywhere need stock photos and music to help promote their products and use for advertising. You can sign up for a free account on Istockphoto.com and get started licensing both.
5. Sell Business Plans on eBay:
This one is interesting – go to eBay and type in "business plans". All kinds of drafts for different business plans will pop up. If you've got an idea for a business, you too could type it up and sell it on eBay. Regardless of whether or not you have any experience, if your idea has any feasibility, then it's possible that someone might take interest in your proposed business model.
6. Join Some Rewards Programs: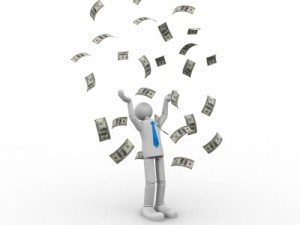 You might as well get paid for the things you plan on buying anyways. If you buy things online, then you should sign up for some kind of rewards program like Swagbucks or Ebates. Membership is usually free and it is an easy way to make a modest amount of money for doing nothing more than conducting your regular shopping online.
Plus you can then always double-down and get free money twice by using a credit card that also has an awesome cash back rewards program. Click here to see my favorites!
7. Social Media Promotion:
If you use Twitter, Facebook, Reddit, or pretty much any other social media site, then you already know that it takes absolutely no investment to use. Because of the popularity of these sites, there are money making opportunities to use services such as adf.ly will pay you to promote their clients by doing nothing more than talking about them on these sites.
8. Write for About.com:
How many times have you gone to look up something on Google and one of the first articles you see is one from About.com? Did you know that you can easily apply to be one of the writers of one of those articles? All you have to do is apply and they will send you the topic.
9. Participate in Paid Surveys:
In the early days before blogging, this was one of the easiest and slickest make money from home tricks I used because it was just so incredibly simple. All I had to do was log in to my paid survey accounts, click a few boxes, and collect my earnings! Anyone can do this one. Try this website here for an incredible list of paid surveys you can start using today.