Do you want to know what could be better than owning a stock and having it double, triple, or even grow ten times its value? How about getting PAID for simply just owning it! If you want to know how to make some extra money and are looking for a sure-fire way to make some guaranteed returns, then look no further than many of the brands you know and trust.
Being a dividend stock investor is one of the oldest and best ways to earn a residual income. And it is by far one of the easiest passive income strategies you could ever think of. Why? Because you literally don't have to do anything to earn this extra money. All you have to do is own a few shares. Let me explain this further.
Dividend Stocks and How to Make Some Extra Money with Them:
The way a dividend stock works is simple:
You as the investor buy the stock and become one of their shareholders.
Each quarter the company pays a dividend payment to the stockholders.
You collect the dividend payments.
That's really all there is to it. So long as the company has earnings and agrees to keep paying their dividend payments to the shareholders, then you've got it made!
How Much Extra Money Could I Earn?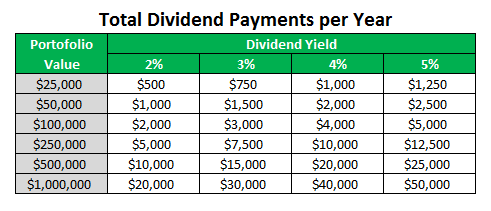 Your earnings potential is limited only by how many shares of stock you purchase. Check out the table below to give you an idea. For example: Let's say you had a portfolio of $500,000 in dividend stocks, and collectively those stocks produced a 4% dividend yield. That would make you some extra money in the magnitude of $20,000 per year! That's really not bad considering you didn't do anything all year except just be the owner of those stocks.
Picking the Best Dividend Stocks:
As you can guess, the trick to getting started with investing in dividend stocks is to pick ones that will be sure to produce results. As with all investments, there is always a risk that your investment could go down in value. So you'll want to invest in stocks that are solid and have a strong potential to produce returns year after year.
That means a few things:
You want companies that are in good financial health. Large companies like those in the Dow Jones Industrial Average are a great place to start looking.
You want companies that pay a healthy dividend yield. You can look this up on pretty much any major news media's financial page (such as Yahoo Finance or CNN Money). Just type in the name of the stock and it will list its dividend yield.
You want ones with a history of increasing dividend payments. Usually companies that increase their dividend payments for a period of 10 or more years will be a better bet than one that just recently did it and will probably drop back down at the first sign of trouble.
Where to Look:
Two of my personal favorite places to look for dividend stocks that will earn some extra money are the following:
The Dogs of the Dow. The Dogs of the Dow are the top ten highest dividend yielding stocks from the 30 stocks within the Dow Jones Industrial Average (an index fund of large-cap stocks). The logic behind this strategy is that (in theory) the yield is so large because the market value of these stocks is below fair price. Therefore you're essentially buying these stocks "on sale" and the hope is that the market will adjust the price upward – translating into a favorable capital gain. So now you're making some extra money in more than one way!
The Dividend Aristocrats. The Dividend Aristocrats are a group of companies who have managed to increase their dividend payment for 25 years or more. Think about all the market ups and downs that can happen in 25 years, and somehow these companies have managed to stick to rewarding their share holders through thick and thin all this time. These companies are usually also large cap ones, though they may not be a part of the Dow Jones. Investors like to give attention to this group because it gives them confidence that no matter what happens the company will probably keep on paying the share holders.
Consider the Risk:
Bear in mind these are just my personal opinions (and I'm not a financial professional). If you ask 10 investors their opinion on anything, you're likely to get 10 different answers.
Even though stocks can be a great way how to make some extra money, always remember that a stock is free to go up or down depending on what happens in the market. So while you stand the chance to get a great dividend payment, don't pick a stock could easily drop in value. One good thing about dividend stocks is that there is a lot of evidence to support that they perform better over time than other regular stocks or investments from other sectors. Make sure you understand what you are buying or speak to a financial professional if you have any questions.
Related Posts:
Image courtesy of FreeDigitalPhotos.net