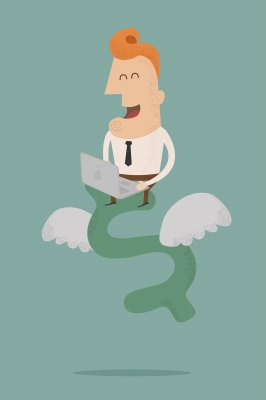 Make a quick sweep of the current top 10 Google search results for how to make money online free and you'll find the following:
Credit card offers
Selling your services over sites like oDesk or eLance.
While all of those things are legitimate and used by lots of people to make a few bucks here and there, that in-itself is the problem: It's only just a few bucks here and there.
I should know – I've used all of them. Most of these kinds of things are just one-time deals where you might get $10 here or $100 there. Even though it's nice to get money, they definitely will NOT help you over time to keep reproducing or making a decent and consistent stream of income.
What if your goal is to make over $1,000 each month? That would be a lot of surveys or credit card offers, right?
Instead, I'd like to offer you an alternative plan for making money online: Building up a business – a website business.
Using Websites to Make Money Online Free:
Building up a collection of websites as a business to make money over the Internet is not as difficult as some people would have you believe. It does require a heavy amount of commitment, research, and testing – especially when you're just getting started.
But then as time goes on and your websites get going, they then can become a self-sustaining organism that collects money for you month after month without any involvement from you.
I have several websites now where I add almost no new content or links to them. Yet the articles they host seem to do just fine in the Google search engine rankings. Every day they get a decent amount of traffic which then turns into actual real money that I make over the Internet.
But Doesn't It Cost Money to Build Websites?
That is correct … at first. Building websites does cost some money in the beginning. What project doesn't?
But here's the cool part – It's not too hard to make your initial investment back within the first year (or sometimes even within a few months).
That's always how I set the budget for any of the new sites I build. I estimate how much money I could make and then keep my investment budget to some fraction of the anticipated revenue. For less than $100 you could easily get yourself setup with a professional looking website and a few pages of content.
How to Create Your Own Websites:
Step 1 – Find something that interests you.
What do you like to talk about? Read about? Think about?
This is perhaps the most important step to the whole process. Why? Because you're not going to be very enthusiastic about this project if it's a topic that is un-interesting to you.
For example: When I created my music niche website, this was something that I knew I would like to work on because I play the guitar as a hobby. Being a guitarist is something I never get tired of and writing more about it is something I would look forward to.
Step 2 – Do your competition and keyword research.
You don't have to know anything about websites to know that some are just bigger and more well known than others. For example: If you try to create a sports-themed website that you think will be the next ESPN, you're going to be very disappointed since that will be impossible to compete with.
Instead – do something different! Go after topics and keywords that are not quite as competitive. Think of ways to present information or stories that no one else has ever used before. I use a paid tool called Long Tail Pro Platinum to do both. I research the right keywords for all my articles before I write them and then check to see the competiveness score so I know if I have a good chance of ranking well online for the article I'm about to write. I know (and have proven time and time again) that writing great content that targets select low competition keywords is a great way to get people to naturally and organically find your website through the search engines.
Step 3 – Slowly create a website.
I say "slowly" because you don't want to do too much too soon. For one thing you'll burn yourself out. For another Google will think it's not natural if you suddenly have a website with 50 pages of content and links pointing to it. Slow and steady is the best way to build up a long-term website.
Register your domain and get ultra cheap hosting from a service like iPage. I once got a 3 year deal for about $36.
Use free tutorials like this one to help install and setup the default theme from WordPress. From there it's time to start publishing content. You can either hire writers to help with this process (about $5 to $10 per article) or write the content yourself.
If you want to go above and beyond you can get a professional-looking logo from a place like Fiverr for $5.
Step 4 – Attract traffic.
A website with no readers is about a useless as a store with no customers. Neither are going to make any money. Before even worrying about making money online you've got to get people to visit your site.
There are dozens of ways to do this. The best tactics are to be social, get noticed and network with other like-minded bloggers. If you'd like some more tips try these ones here.
Step 5 – Advertise.
Once you get a decent amount of traffic to your site, now is the time to start putting up some ads and making some money. Easy ones are Google Adsense, Amazon Associates, and Clickbank.
Give it some time to see how they do. Don't expect to get rich quick. Feel free to play around with the shapes and placement of the ads. Sometimes the way your website looks will have a direct impact on how the site does.
If you'd like a much more in-depth tutorial on how to make money online free by creating websites, we've got a completely free resource page on "how to create a blog" at this link here. Please feel free to use it to your advantage.
Images courtesy of FreeDigitalPhotos.net