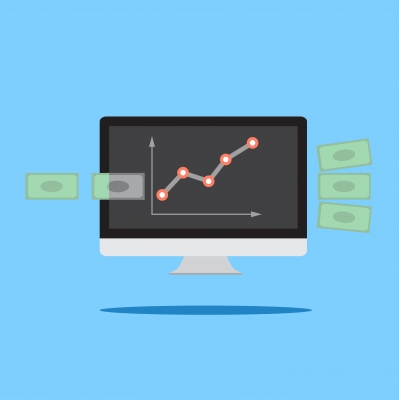 If you have a website, the Google Adsense affiliate program is simply one of the easiest ways to make money online and generate passive income every single month.
Google is by far the most dominant search engine on Earth.  And because so many millions of people use it every day, Google is able to manage a very diverse network of opportunities for businesses that would love to advertise on the web.
As a site owner, that's a great opportunity for you!  In exchange for leasing some of your website's real estate, Google is willing to pay you every time someone clicks on an ad.
But you might be wondering how much can you make from Google Adsense advertising?  Some bloggers complain about only making a few pennies in Adsense income.  Others brag about making thousands of dollars every month.  For example, Pat Flynn's Security Guard Training HQ website makes over $2,000 in Adsense revenue every month.  Rank XL's authority niche site made almost $24,000 in Google Adsense income in just one month.  So what's the real deal? Why such a big discrepancy?
In this post, we'll explore how much income you can make from Google Adsense and its relationship to search engine optimization (SEO).  As you'll, it has a lot to do with whether or not you'll make pennies or thousands of dollars!
Your Google Adsense Income Starts with Good Keywords
Your potential Adsense revenue will be based on three things:
0.68 x CPC x Search volume x Conversion Rate
The 68% figure is fixed by Google (we'll talk more about that below).  The next three criteria all relate back to good SEO.
SEO is all about ranking well in the search engines.
Why?  Because that's how people can easily find your website.  When someone types in a word to the search field, you want your website to appear in the number 1 spot because then they will visit your site and possibly click one of your Adsense ads.
Good SEO and potentially high Adsense income starts with finding great keywords that have a high CPC, high search volume, and low competition.
High CPC:
CPC stands for cost per click.  The higher the value of the CPC, the more money you'll stand to make.
Let's say you write an article for a keyword that ranks well.  It get 100 clicks per month and the average CPC is $1.00.  If you were to find a different keywords with a CPC of $10.00, this would increase your earnings by 10 times!
The way you find this information out is to look in Google Adwords under the Keyword Planner.  The keyword research tool Long Tail Pro also does this for you.
As you type various target keywords (called "seed words") into the search box, you'll notice right away that some types of keywords are far more profitable than others (for example various types of insurance products vs generic tips on saving).  Remember that the dollar amount you see in Adwords is NOT what you'll be making.  It is merely an average bid price for what Google will charge advertisers to place ads on your site (and other sites).  Google pays publishers (you) 68% of the price they charge advertisers.
Search Volume:
The next variable in increasing your Adsense revenue is "search volume".  Simply put, the more people that look for this particular keyword, the higher number of visitors you may get to your website.  And that could translate into higher chances to make more income!
A site that earns 100 visitors per day will not make nearly the amount of income that a site that has 1,000 visitors per day makes.  And a site that attracts 10,000 visitors per day will make a whole lot more!
This is why superior content creation and marketing is a critical part of getting your articles to rank in Google.  You can't attract readers simply by adding more pages of content.  It has to be content that people actually want to read and gets ranked well.
Another thing that goes hand in hand with targeting high search volume is your click-through rate (CTR).  Going back to my earlier example, if the 1,000 visitors/day blog has a CTR of 0.1% while the 100 visitor per day blog has a CTR of 1%, guess what?  They have exactly the same earning potential!
Getting your CTR will depend on a number of variables, many of which will be out of your control.  Unfortunately even the best websites and niches sometimes only experience CTR's of 1 to 2% while poorer sites may see 0.5% or less.  This just happens to be on average the clicking pattern of most readers as they skim past these ads.
If you experience low CTR, you may want to check your Google Adsense settings to make sure that they are only displaying highly relevant ads.  Ads that are not useful or have no relevance to your site will not entice readers to click.  In fact in some instances it may turn them off from your site (for example religious or political ads).
Low Competition:
Want to increase your conversion rate?
Simple – get people to find your webpage by making it as easy as possible to find.
That is accomplished by finding low competition keywords.
Your goal is to attract as many organic searches as possible.  To do this, you will need to rank on the first page of Google within the top 10 results.
How is this possible when Google returns over one million search results for virtually everything you type into their search box?
The answer: SEO.  Content that is perceived by Google to be the most relevant will turn up in the Google Top 10, and you can bet that those webpages stand the best bet at earning the most amount of revenue, whether it be from Google Adsense or any other affiliate program.
To do this strategically, you need to "game" the system by trying to get your article to rank for search terms that have the lowest amount of competition.  For example, let's say you write a webpage about mortgages.  You can bet that your article probably has no chance in hell of making it into the top 10 search results because all the big name companies and media authorities like Forbes, etc will beat it out.
Instead, let's assume that you targeted a keyword that was less general yet still had good search volume.  In this case the Google top 10 results might not be from such high authority sites.  There you stand a chance of having your content get found, read, and someone clicking on one of your ads.
The net result: Higher potential to increase your Adsense earnings!
Summary:
If you own a website, you've got a golden opportunity to generate a solid stream of residual income every month.  In order to figure out how much can you make from Google Adsense, you need to rely on three main things: CPC, search volume, and how many clicks you expect to receive from people actually finding your website.  Strong keyword research that singles out phrases with high search volume, high CPC value, and low competition will give you the best opportunity to attract organic traffic.  But that content will only stick if it's worth reading.  Ultimately your ability to have someone find your site and click on one of your Adsense ads (and you make any money) will depend upon how good the stuff on your site actually is.
If you'd like some help creating a money making website of your own, feel free to check out our free +7,500 word page here.
Featured image courtesy of FreeDigitalPhotos.net