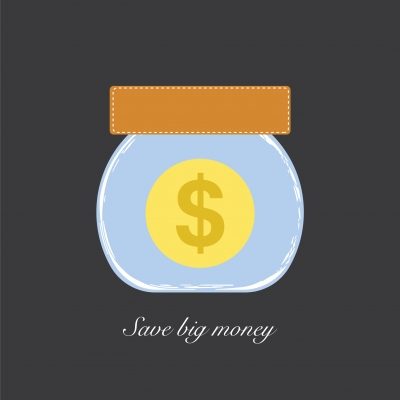 Saving and investing is one of the single best ways to create a fortune that will provide a lifetime of passive income.
But as I'm sure you've encountered, saving money is no easy task.  It often takes a lot of careful planning, budgeting, and discipline.  As if living expenses weren't enough, unplanned expenses like car repairs, health care providers, or things that need fixed around the house always seem to sprout up.
Fortunately there are several ways to optimize your savings in order to get more for every dollar you earn.
To build up your pile of money as quickly as possible, you have to be very strategic about where you put your money.
In this post, we'll explore a few good options for avoiding taxes and building up your savings as fast as possible.
Tax-Sheltered Retirement Accounts:
I'm not the only person who wants you to save more money; the government wants you too.  (But before you give them too much credit, know that this is because they don't want to have to take care of you when you get older.)
To encourage people to save and provide for their own retirements, tax-sheltered retirement accounts like 401(k)'s and IRA's allow working people to set aside money before the taxes are taken out of their wages.  This allows them to effectively save "more" for every dollar they save.
For example, if you traditionally earn $1, you only get to keep $0.75 of it after you pay 25% to taxes.  So if you want to save that dollar, you really only get 75 cents.  But with a tax-sheltered account, you get to keep the whole dollar!  No taxes are taken out.
What's better?  That dollar gets invested and grows for years without taxes being taken out every year.  This again allows it to compound even greater than it would in a normal taxable brokerage account.
Taxes are finally taken out at the time of retirement when you decide to withdraw the money for living expenses.
You can read more on the benefits of tax-sheltered savings at this post here.
Annuities:
If you'd rather avoid the markets and lock into a tax-sheltered investment that pays out a defined amount of money every year (in the future), then an annuity might be a better fit for you.
Annuities have been around since the days of the Romans.  Soldiers would take their earnings and pool them together.  As members of the group would die from battle or age, the remaining members would enjoy the distribution of wealth.
Today, annuities are typically offered by life insurance companies.  You can setup a contract now and start paying into it.  In the future, once the contact matures, you will enjoy fixed, guaranteed monthly payments for the rest of your life.
You can learn more about annuities are our post here.
Life Insurance:
Life insurance is a very unique way to mix the benefits of both tax-sheltered retirement savings and annuities all into one.  This is because, depending on which type of contact you enter, you can effectively build your savings tax-free all while receiving the protection of annual life insurance.
There are many different options for companies that offer life insurance. Some of them good and bad. Reviews from ConsumersAdvocate.org can help you sort out the best. It will be very important for you to do your homework before you select one to partner with for investing. For example, as in the case of AARP life insurance program, you'd be working with a reputable company that has been around for more than half a century. But they also have some documented complaints about non-payment of death benefits and poor customer service.
Conclusions:
Sometimes the best way to build your fortune is to simply make every dollar saved worth as much as it possibly can be.  And often that means avoiding taxes and using tools like 401(k)'s, IRA's, annuities, and life insurance contacts to make that happen.  Though there can be some positives and negatives to each, the overwhelming benefit of delaying tax payment and keeping 33% more of your money will have you well on your way to building your passive income generating fortune!
Featured image courtesy of FreeDigitalPhotos.net