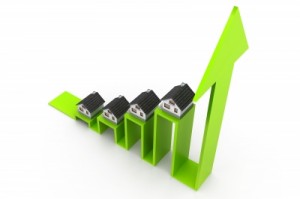 The decision of whether or not to start investing in rental property is not something to be taken lightly. From the time you decide that you're interested in this to the time that you actually make that first investment into a piece of property to rent, there is lots of work that you will need to do.
This can be an overwhelming act for those individuals who are making their very first investment. It is very true that owning property is a very difficult thing and you will find that there are lots of things that can get in the way of you making a profit with your rental property.
There are a few things that you will need to look for when looking for property to purchase and rent out. Here are a few things to keep in mind:
10 Tips for Investing in Rental Property:
You are most likely going to want a realtor to help you finalize your purchase of rental property, but you should definitely start searching on your own. When you have an agent, that can bring on pressure to purchase before you have really found a suitable property for yourself.
The most important thing to do in your search for rental property is to look at all of the neighborhoods and properties within your financial investment range- without bias.
Of course, the range that you intend on investing in could be limited by whether you are going to hire someone to manage your property or you are going to manage it yourself. If you plan on managing it yourself, you'll be taking on the role of landlord, so you'll want to take a look at these important suggestions.
Following are the ten things that you will want to keep in, or at least near, the forefront of your mind when you are considering investing in rental property.
1) You will want to consider that the type of neighborhood you purchase rental property in will determine the types of tenants you attract and how often vacancies come up. If you purchase in a neighborhood that is located near a university, then your tenants will be made up of students, and vacancies will occur frequently.
2) Property taxes are not something that is equal across the board. You must, as the investor, be aware that you will be losing some of that rent to taxes.
A higher property tax rate might not be so bad if you have property in a great neighborhood and attract long term tenants. However, this isn't always true.
You can find out this information at the local tax office or by speaking with homeowners in the area.
3) Keep in mind that potential tenants may want to have children, so you will need to have property that is near a good school- the quality of the school can affect the property values. If the school is one that is poor quality, then the prices in the area will be a poor reflection of your property value.
Though your main concern with rentals is that monthly cash flow, you may want to sell it someday- and poor property value will equal a poor return on your investment.
4) Before making an investment into rental property, you will want to check out the crime rates in the area. No one will want to rent (or buy) property in a criminal hot spot.
However, don't ask the person that is trying to sell you the property. Go to the local police station or library and look up the crime statistics in the area. Look at the rates of various crimes- from serious crimes (rape, murder, etc) to crimes such as vandalism. Also, ask at the police station about the police presence in the area.
5) Those properties that have nearby opportunities for growth in employment will attract more tenants to your property than those that don't. You can look to the local library or www.bls.gov to find out more information about this.
If you find out that there is a major company moving into the area, you will be sure that there will be lots of potential tenants moving to the area. However, this can cause the prices to either go up or down, depending on which company is coming in. Consider this: if you like the company coming in, chances are, your renters will too.
6) Check out the neighborhood for current or projected gyms, malls, movie theaters, parks, and any other positive features that could attract renters to the area.
Visit the local visitors' center to find out more information about the best blend of private property and public amenities are.
7) Visit the municipal planning department for the local area to get some information on the new development that has been zoned into the area or is coming. If there is lots of residential or commercial (businesses/malls/etc) growth or zoning, then it is probably a great place to purchase rental property because it's growing.
One way to know is to check a popular websites and see what properties are available in the area. You can also see what kind of prices they are going for.
8) If there are lots of listings and vacancies in a particular area, this could be simply a phase, or it could be that the area has problems. So, before you buy property in these areas, take a careful look to see which one it is.
The number of listings and vacancies will help you to know how hard it will be for you to attract tenants to your rental property. When vacancy rates in an area are high, this causes the landlords to lower the rent in order to attract tenants.
9) Of course you know that when it comes to rental property, rent is what you're pulling income from. So, you will want to look around and find out what the average rent in the area is. If you find that the average rent won't pay your mortgage, expenses, and taxes, you will need to keep looking.
Keep in mind that you will want to thoroughly look into this and where the area could be in five years. If you are able to afford the area at the moment, but there are serious improvements coming or property taxes are set to increase, then those affordable properties now may not be so affordable down the road.
10) Finally, insurance is yet another of those expense that you will need to subtract from your rent, so you will want to know exactly how much you are required to carry on your property. If the areas has lots of flooding or earthquakes, that extra insurance will chip away at your rental income.
Investing in rental property can be a great idea for an extra and steady stream of income. It has the potential to earn you lots of money- as long as you do it right. By getting the funding from a bank loan or by investing in a structured settlement there is a strong potential to generate some great income. Just be sure to follow the tips above and first set yourself up for success.
Related Posts:
1) Buying a House to Rent Out and the Things You'll Need to Know
2) Places to Go to Make the Best Short Term Investments
3) Good Investment Ideas You Need to Try Today!
Images courtesy of FreeDigitalPhotos.net