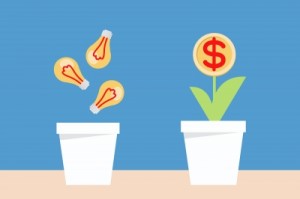 If there's anything scarier than whether or not you'll make money from something, it's figuring out how to properly invest it without making the wrong choices and completely losing it all. Fortunately there are only a few critical things you need to understand when it comes to knowing how to make your money grow in such a way that it will flourish without taking on a lot of unnecessary risk.
First – Give Yourself a Financial Education:
The first thing you should do before you do anything with money is educate yourself about all things related to money. You can easily do so by:
Getting a magazine subscription
Read some articles online
Finding a good book
Talking to someone
The more you absorb about money and challenge yourself to understand, the more well-informed decisions you'll make. You'll learn to avoid common pitfalls and why some strategies are better at producing returns than others.
Once you know how to make your money grow the right way, the act of doing so will be so much easier because you'll have confidence in your decisions. No longer will be you be wondering if you've made the right choice every time the market sways up or down. Knowing which strategies will fit with your goals and your level of comfort will help you to stay the course and not prevent your wealth from accumulating.
Understand How to Make Your Money Grow Using Compound Interest:
If there's anything you need to focus on specifically when you're in the process of educating yourself on money, it's this:
Understanding how much compound interest affects your returns.
We've got a great tutorial on this website regarding how compound interest works (click the link to read it). If you pay attention to it, then you'll be able to understand the following example:
How much money would you make if you were to invest $10,000 every year for 40 years using one of two options for investing: A) Under your mattress? B) In a stock market index fund?

Do you see how using the power of compound returns can make a huge difference in how much your money will grow?
Invest In An Index Fund:
Once you figure out that compounding returns are one of the single best passive income strategies available to you (especially at a young age), then you are ready to select your investments.
Unless you are already a skilled investor, my recommendation would be to start off using some of the good investments offered by the discount broker firms:
A mutual fund that tracks a market index fund such as the Vanguard Total Stock Market Index Fund Investor Shares(VTSMX) or Vanguard Total Bond Market Index Fund (VBMFX).
An ETF that also tracks a market index fund.
Dividend stocks to well-known, reputable companies that you can find in the Dow Jones Industrial Average.
My reasoning for recommending each of these types of investments is because once you own them, there is very little to be done after that except monitoring them and giving them time to mature and make your money grow.
Defer Your Taxes:
Another way how to make your money grow is to not let it slip away from you! By using your tax-sheltered retirement plans, you can defer paying taxes for decades until you are finally ready to retire. That can add up to tons of tax-free investment growth that you would have missed out on if you had tried the same thing in your regular taxable account.
In the U.S., your options for common tax-deferred retirement accounts are:
401k
403b
IRA (either a Roth or Traditional)
Annuity
Pay Off Your Debt:
Similar to the scenario I gave you on having to pay taxes, it will be hard to fill your bucket of money if there is a hole in that bucket on the bottom and it is constantly leaking out.
What do I mean by that? Debt! One of the easiest ways how to make your money grow is to pay down your debt so that you can keep more of the money you make. If you really think about it and work out the math, paying down the money you owe on something (like a mortgage or car) is the same thing as investing that money at the same rate of return. For example, if you put an extra $1,000 towards your mortgage which carries a fixed 5% interest rate, then you've effectively made $1,000 with a 5% interest rate comparatively. So if you want to "lock in" a rate of return, all you have to do is pay down your debt and you will achieve the equivalent of whatever interest rate you are currently paying.
Related Posts:
1) The Best High Return Investments with Modest Risk
2) Small Investment Ideas That Take Less Than a Thousand Dollars
3) 15 Different Ways to Make Money on the Side
Image courtesy of FreeDigitalPhotos.net