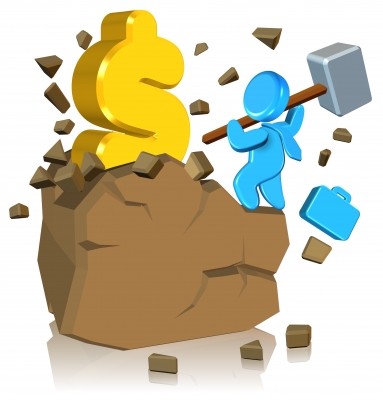 Finding good Clickbank products to promote on your website can be a great way to earn some affiliate revenue and create another passive income stream for your website.
Clickbank is full of people who have developed their own digital products and need people like you to try to help them make sales.
As a result, you can often take a pretty healthy cut of the profits – sometimes as high as 50 to 80%!
But you don't want to go ripping people off either. Not all products on Clickbank are made the same, and some of them are down-right scams. And the last thing you want to do with your website is become associated with a scammy product that is going to leave your readers having no trust in you whatsoever.
In order to avoid this dilemma, there are a few preliminary steps you can take to make sure you find some great Clickbank products to promote and earn money from.
Check Out the Product Website Front-End:
The first thing that is an absolute, must-do before you promote anything from Clickbank is to check out the front-end of the product website.
Go to it and see what it looks like; just like your readers will do when they click through your affiliate link.
What will they see?
Are the claims legitimate?
Does the site seem genuine and high-quality?
What is the price structure?
What kind of impression will this leave with the viewer?
Your readers are only going to be willing to buy things from places where they feel safe. So before you promote a product, make sure the products website is something people can trust.
Inspect Clickbank Products In Person:
This is the next step of inspection before you can promote something worthwhile from Clickbank.
Once you know the website looks legit, it's time to move past the exterior and make sure the product itself is something worth trading money for.
This doesn't mean that you have to necessarily buy the product itself. Often if you reach out to a marketer on Clickbank, they will sometimes let you try a free sample of their product.
A free sample might consist of:
A free copy of an ebook.
A free sample of a video from a video series.
A user name and password to a membership site.
Doing so will only help you write a better and more thorough review of the product, so it's a small price to pay to get some really good publicity. As a matter of fact, according to Income Diary, the product manufacturer is getting some pretty cheap and long-lasting advertising.
To get free samples is relatively easy. All you have to do is:
Go to the product website and find a "Contact" or "Affiliates" link.
Email the product owner letting them know you're think of becoming an affiliate, and you would like to get a free sample to get to know the item better.
Some owners may say "no" or offer you only a discount on the product. It's your call if you still want to pursue inspecting the item or not so that you can adequately promote it.
Check for Negative Press:
Even if you do find a great product with a handsome looking website, you're still going to want to do your independent research and see if there is any negative press about it.
Why? This again goes with making sure you're putting your name with only great products.
Perhaps someone else had a negative experience with this Clickbank seller such as a difficult refund or lack of customer support. It would be helpful to learn these things about the product now rather than waste your time writing content to promote it only to have it go bust in a few months.
Plus you can bet that other people are going to do their research before they buy. So it will be better for you to know what you're promoting and get in front of it while you can.
Conclusions:
Again – remember that not all Clickbank products are created the same.
While items from Clickbank can be a terrific way to make some affiliate income on your website, be careful which products you promote. Inspect the sales page, look for negative press, and try out the product yourself. You'll be able to do a much better job really selling and talking about this product when you have complete confidence that its worth your reader's attention and money.
Also – If you'd some help getting your new website off the ground, be sure to check out our complete and comprehensive guide to starting a money making blog.
Featured image courtesy of FreeDigitalImages.net