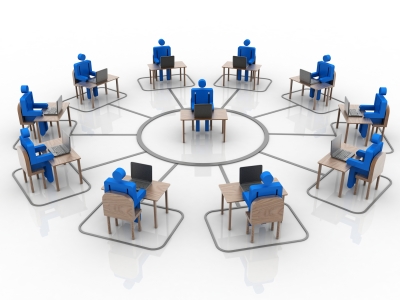 Creating an online course has become one of the best new ways to package and sell information.
Buyers don't want to have to search around to find the answers to all of their questions, and they will often pay top dollar to anyone willing to organize it all for them.
This creates a wonderful business opportunity for anyone looking to make money over the Internet.
However, knowing how to create an online course can be challenging without an audience and a message. With the correct approach, you can easily navigate this process. The keys are understanding how to create a community and design the online course with the best tools available.
If you're trying to get started, use this advice for success.
First Build an Online Community:
One of the easiest ways to attract potential future students is to start a blog where they can get to know you. You can do this by starting your own website for not a lot of money and really focusing on providing awesome content to your audience.
When you create a community, you need to make sure that your site is consistent and designed to share. Encourage comments and even enable a forum if possible.
Headlines and plugins are some of the top ways that you can build a community from scratch. Make it easy for people to keep coming back to your site time and time again.
You also need to make sure to connect with people. Share others' content as well as your own. Make sure to answer and ask questions. Connect with the important people and listen to what they're saying.
This is the human side of the online world which often gets left behind. Your community is made up of people, not robots. The more one-on-one connections you make, the better you'll be.
Create Awesome Online Courses:
After you've created a community, you then want to design an online course for people to follow and learn.
Good course design builds on the principle of instructional design. Since it's more likely your audience will be adult learners, most likely, you need to ensure that each lesson provides value.
The best way to start is by creating an outline. Decide what topics you will cover in each session by:
Drawing from your own experience
Researching blog posts
Looking in niche-related forums for common questions
Q&A sites such as Yahoo Answers
After you have this broad approach, you can then focus in on each individual lesson. Each lesson should have consistency in the outline. You may want to have a variety of videos, instruction, text, and other tools to keep the learners engaged throughout the session. Also, make sure that each lesson is not overly long. Many people will not stay engaged if the course begins to take up more than 30-45 minutes.
Finally, make sure that you close up your talk with a strong take-away message. This should be a practical summary of what they've just learned and how it can be applied to real life.
After you've designed your course, try to get some feedback. If you have a friend online or in person who can take the course, have him or her go through the steps and offer feedback. This will give you another opportunity to make tweaks before you actually start to offer the course.
Market to Your Audience:
Once your eCourse is ready to hit the market, use the blog and email list you've built up to gain the attention of people who already know you and believe in your service. Believe it or not, this sort of strategy is very effective!
One of the best examples that comes to mind of a blogger who used these strategies to create an online course was Brian Dean from Backlinko.com. He spent over a year providing post after post of awesome actionable content that his audience simply ate up!
After he built his community of followers, he then launched an online course that earned him into the six-figure per year range. If you'd like to hear his entire story, Niche Pursuits has a great podcast where they interviewed Dean and discussed his online course. It's not only very motivating, but also very valuable in terms of providing the template for building a profitable online program.
Featured image courtesy of FreeDigitalPhotos.net