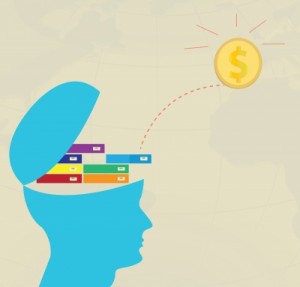 If you run a blog but don't make any income from it, then chances are that you're probably missing out on a good thing. The traffic that stops by your website each day could be your ticket to best money making opportunities available on the Internet.
Why? Because just like a well traveled highway or popular hangout, there are plenty of occasions for advertising and promotion of products and services. Even if those things aren't yours, you can still make an incredible side income when people pay good money to work with you to take advantage of the opportunity to advertise.
Your Strategy Should Start With a Need:
If you've got any doubts or hang-ups about trying to make money from your website or social presence, you don't have to feel like a cheesy infomercial. The fact is that if you do things right, your audience won't even hardly know they are being sold to.
The big key to your online marketing strategy needs to be this:
Providing a solution to a need.
Keep this piece of advice in mind as you read through each of these money making opportunities and how you could apply them practically to your own site building techniques. If your attempts to promote products do not align with the personal needs of your audience, you will become very frustrated as you struggle to make any income from your efforts whatsoever.
My Top 10 Money Making Opportunities You Can Use From Blogging:
Promote products sold on Amazon. Amazon has become one of the largest retailers online and it is very easy to join their affiliate program. The beauty of their program works like this: Suppose you are really into guitars and promote a +$1,000 guitar on your site. When someone clicks on your link and buys it from Amazon, you get a commission. But then get this: Even if they buy something else, it will result in a commission for you. The trade-off is that the tracking cookie is only good for 24 hours.
Participate in affiliate programs. Literally every retailer and service provider out there has an affiliate program. All you need to do is sign up through an affiliate broker like Clickbank, Commission Junction or Flex Offers and apply for their programs. Similar to Amazon, when someone clicks on one of the links on your site and makes a purchase, you will get a commission. Usually the cookie for these programs is much longer than Amazon's (15 to 60 days).
Participate in PPC programs. Suppose you don't want to wait until someone buys something. Pay per click ads are another way to go and do just what they sound like they do – pay you every time someone clicks on the link. Even though the payout is much smaller than with an affiliate program, if you have a lot of traffic or interest in that product, the results could really add up into some handsome income. Google Adsense and Chikita are probably the most famous PPC programs available.
Write reviews. Companies know that the public hits the Internet to see if their product or service is good. Think of all the times you haven't bought something from Amazon because of a bad review. By offering to write a good, honest review, you can help them achieve the good publicity and positive buzz they are looking for. Depending on the size of your audience and the authority of your site, you can command a pretty sizeable compensation for it as well.
Direct email marketing. It has been said that the most captive part of your blogging audience is your email list and one of your greatest money making opportunities available. Why? Because they cared so much about your site that they offered their information in return for being notified every time you publish a new post. If you're clever enough, you could use this platform to your advantage by periodically offering a product or service that you know will be helpful. I can't tell you how many times I've received an email from a blog I subscribe to that starts off talking about a problem I have with my blog and then offers up a product that is persuasive and affordable solution. Just be careful not to promote too many items too often, or you will lose a lot of loyal subscribers quickly!
Sell direct advertising. Once your blog starts to have any kind of rankings or community at all you will start to get offers from advertisers for guest posts, link placements, and banner ads. These can all be very good money making tools since you can usually command anywhere from $50 to over $1,000 per ad depending on the popularity of your site and the type of ad they wish to place. The trick though is not to violate the Google Webmaster policy of placing dofollow links on your site in return for payment. If Google red flags you, your site rankings and ability to be found by natural organic traffic could be compromised.
Offer a service. Lots of other bloggers will struggle with their sites. They'll need help with writing, blog management, coding, keyword research, etc . They may even need people to help them respond to blog comments or social media sites. If you have any skill in any of these areas, you could partner with them and negotiate a fee for your services.
Write an eBook or sell a product. Suppose you have something physical you'd like to sell like an actual product (such as a CD set or instructional video). Using your blog and the trust you've built up could be a great platform to market your items. What's the most typical thing I see people sell? A downloadable eBook. Why? Because they are simple to put together, inexpensive to produce, and easy to market. You can sell them on Amazon or sell them on other people's websites under an affiliate program. If you've got a lot of articles on your site that no longer get much traffic and they focus on a particular niche or problem, try bundling them together as an eBook and sell it.
Make money offline. Suppose your blog outgrows your online persona and people want to get to know the man or woman behind the curtain. A lot of money making bloggers have been invited to speak at seminars and events. Their stories and advice can be inspirational and helpful for others. Some people have even used their websites as a stepping stone to evolve their online business into large scale classes and speaking events. The opportunities are endless to capitalize on other people's desire to hear what you have to say.
Sell your website (or others). A blog is relatively cheap to start. Suppose you start it from scratch, build up its audience and ranks, and then are able to sell it for $10,000. How cool would that be? Sounds crazy, but people do this all the time. They build up niche websites and then sell them on Flippa for a nice profit. Another strategy they use: They buy failed websites, fix them up with some good back-links and articles, and then turn around and sell them for a profit. If you know how to build up a website and nurse it back to health, this could be one of your more speculative money making opportunities to take on. The good news: You could work on several of these sites at a time using outsourcing to reduce your efforts.
Image courtesy of FreeDigitalPhotos.net